How to take the perfect LinkedIn profile picture with only your smartphone in 10 simple steps
You're probably here because you need a new LinkedIn profile picture.
But you don't want to waste your money on a stiff professional headshot. And you really don't have to. It'll likely make you look too uptight, anyway.
In this post, I'll show you how to take the perfect LinkedIn profile picture with just your smartphone in 10 easy steps.
Let's get into it.
1. Get ready like you're jumping on a regular Zoom call
A lot of people get stuck thinking about how formal they should look or dress in their LinkedIn profile picture. My rule of thumb is to look and dress like you would when jumping on a Zoom call for work or with a client.
The goal is to minimize any discrepancy between what you look like in your LinkedIn profile picture and on a virtual call.
Brush your hair, put on a little makeup (if that's your style) and wear a nice top. That's it, nothing fancy.
PRO TIP: Blot your face with toilet paper before to avoid a shiny look.
2. Find a spot with natural lighting
Natural light is the best kind of light for taking a picture of yourself.
If you don't get much natural light in your home, go outside! Just opt for a day that isn't extremely sunny so you avoid the squinted look.
Even if you have a ring light or a lightbox, I'd still opt for natural light for your LinkedIn profile photo.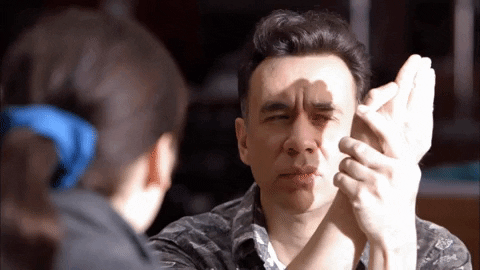 PRO TIP: Find a contrasting background you can stand or sit in front of to make removing the background of the photo easier (see step 6.)
3. Use a stand for your smartphone
If you have a stand for your smartphone, use it. Maybe there's a shelf or cupboard (or 3-4 books) you can use to prop your phone up.
Another great option is to buy the Flipstik, which you can stick on pretty much any surface.
The last resort is holding your smartphone up with your bare hands (*gasp*) and taking a classic selfie.
Nothing wrong with this. I do this all the time. You'll just crop the photo below your shoulders later.
4. Take 5 different photos of yourself
If you're brutally unphotogenic like me (friends have told me I resemble either a pigeon or slug in most photos), take multiple photos of yourself. If you need 10 takes to get 1 good picture, take 10. No judgement.
But don't take 5 or 10 of the exact same photos. Switch them up:
Different poses
Different facial expressions
Glasses on or off (you never know what will look best)
If you're not taking a selfie with your bare hands, use a 3 or 5-second timer on your smartphone. This gives you plenty of time to pose.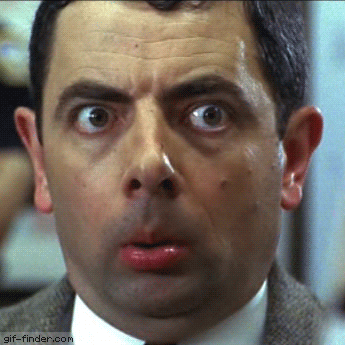 PRO TIP: Think of a joke or something embarrassing that makes you laugh when you're taking your pictures.
Pick your favourite picture and move to step 5.
5. Create a new design in Canva and upload your favourite picture
Go to Canva.com and create a new Instagram post (Square) design.
Upload your favourite picture to Canva and add it to your design. Then make it bigger and centre-align it.
6. Remove the background of your picture
Use the BG Remover feature in Canva to remove the background of your picture.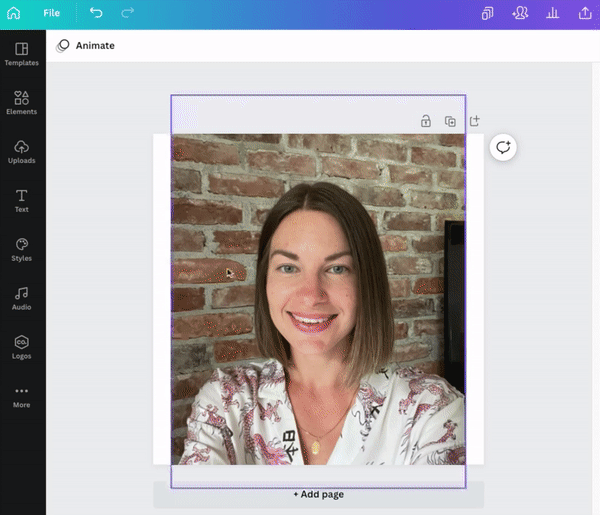 Use the Erase Brush feature to remove any parts of the background that weren't removed.
This is why taking a picture in front of a contrasting background can help. It reduces the chances of not having all the background removed from your picture.
7. Add a shadow to your photo
This is a small trick I use to make my LinkedIn profile picture look more professional.
Click on the picture of you, select Edit image and search for the Shadows effect. I like to use the Drop shadow effect.
Adds a little something to it, doesn't it?
8. Add a colour background to your picture
Click on your design canvas and pick a nice background colour. I recommend using one of your brand colours for consistency.
PRO TIP: Match the background colour of your LinkedIn profile photo to your LinkedIn banner.
9. Download your Canva design as a PNG image
Once you're happy with the design of your new LinkedIn profile picture, download your Canva design as a PNG image.
Go to Share and select Download.
10. Upload your new profile picture to LinkedIn
You're finally ready to start rocking your new LinkedIn profile photo!
Upload your new picture to your LinkedIn profile and get networking.
Here's my final LinkedIn look:
That's it. 10 easy steps to creating an awesome LinkedIn profile picture, 100% for free.
Follow them and I guarantee you'll get more views on your LinkedIn profile, more connection requests and you'll build a brand way faster.
Share this now with a friend or coworker whose LinkedIn profile photo needs some help.