Been meaning to build your
personal brand on LinkedIn

this year?

I created something for you. It's called the LinkedIn Starter Jetpack🚀 and it's the framework you need to become known and generate opportunities for your future self.

I'M INTERESTED!
Ready to define your voice on LinkedIn, stand out and attract more opportunities?
There are 3 ways I can help you. Take a peek below to learn about each one.
Lead Magnet LinkedIn Presence✨
A done-for-you boutique experience for service-based business owners on LinkedIn who want to build an inbound client pipeline.
I redefine your positioning on your LinkedIn profile to speak to your ideal clients and close more sales — without spending all your time prospecting.
Learn More
LinkedIn Profile Scorecard
Download my free LinkedIn Profile Scorecard to see if your profile is part of the 10.28%. And get feedback on what you need to improve to get there.
I WANT THIS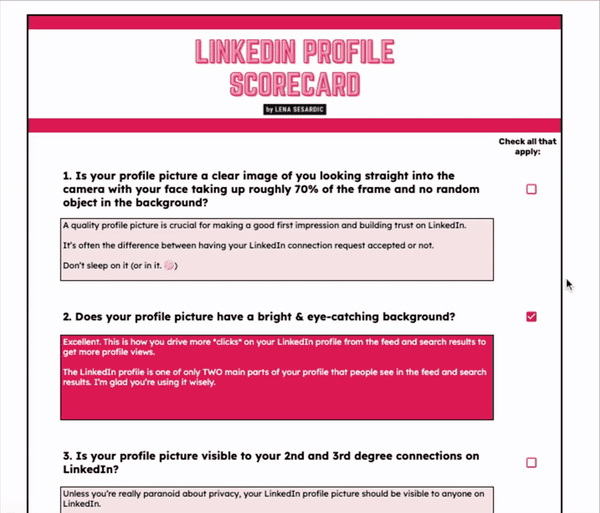 TikTok: @contently_lena
I create fun & engaging videos on TikTok to help you grow your LinkedIn presence!
I'm known for my creative & casual approach to LinkedIn and regularly inspire my audience of 43k+ followers!
CHECK OUT MY VIDEOS
Hey, I'm Lena Sesardic —
I help you better position yourself on LinkedIn so you attract killer opportunities
I'm addicted to hunting down good (& bad) profiles on LinkedIn to see what's working. I love helping people better position themselves on LinkedIn because it opens so many doors.
When I positioned myself as a product demos trainer a few months ago, I got approached to contribute to the product demos module for a Product Management Certificate at King's College. Crazy, right?
That's how powerful positioning is and I want you to reap these benefits too.
Connect with me on LinkedIn
Free Download
Your roadmap to joining the top 10.28% profiles on LinkedIn
89.72% of LinkedIn profiles suck. They look like resumes from the 90s and don't position the humans behind them as the true experts they are. Grab your LinkedIn Profile Scorecard to get your profile into ship shape.